Saturday, August 4, 2012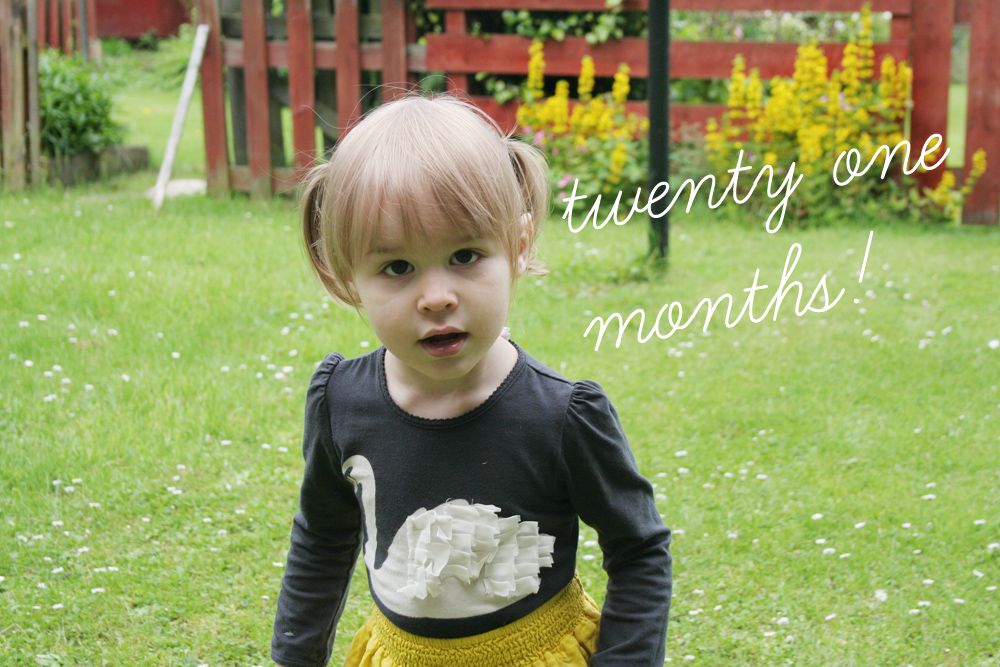 Well, I'm always late on these darn things, and Lani is actually a few days away away from being twenty two months! A lot has happened in the last few weeks and everday Lani is learning something new. Toddlerhood is magical, isn't it? It's also so tough!
About 5 weeks ago, Lani stopped sleeping through the night, and would only fall back asleep if we put her in our bed. I was basically gutted. It was also taking us over an hour some nights to get her down to sleep. We don't believe in sleep training or crying-it-out, but this was getting insane. I decided it was time to get rid of her afternoon nap. She's been sleeping from 11-1:30 everyday, but I was rocking her down for that nap. So away it went. She's still fallen asleep every other day since we started, but I only let her nap for 30 minutes or so and it's made bed time so much easier.
There's been lots of changes afoot, not only finally doing away with her follow on formula, but not giving her a sippy cup of almond milk before bed (instead having it with dinner). We started letting her fall asleep in our bed, with no rocking, and then laying her in her crib. She still wakes in the night, but it's only been taking 10 minutes or so to get her down. Though we've still had a few troublesome nights, including last thursday where it took TWO HOURS for her to fall asleep. Gah!
Last friday, I went to clean the ball pit balls from under her bed and discovered (to my absolute horror) mold growing underneath her crib. We threw the entire thing, mattress and all out that night and she's been sleeping in our bed since. Ryan's Nana generously bought Lani a new 'big girl' (a single) from Ikea on Sunday, but we haven't been able to get it set up for her yet as they were out of stock of the slats! Anyway, I'm looking forward to posting photos of it once everything is put together. (And hoping she starts sleeping the whole night in it too!)
As for Lani's development, she's still such a joy. She talks all the time, loves to run in a circle, swing on the swings and take baths. She says such funny things like shouting "do it!!!" when she wants you to help her take a bite of her food with her fork or spoon. She also says things like "it's stuck", "stop it", "da boy", the list goes on and on. She can name pretty much anything you ask her to and we're working on our colors at the moment. She's progressing so quickly I wonder if she's going to be proper speaking full sentences by her second birthday. Now if only we could get her to use her potty.......
We hardly ever use our stroller anymore either. She wears her
littlelife lady bug packpack
and holds our hand (with the leash part up around my elbow) and is usually happy to walk most of the way, though we do carry her when she asks. She's such a joy, such a funny, silly little thing and we're so lucky she is ours.