Tuesday, June 5, 2012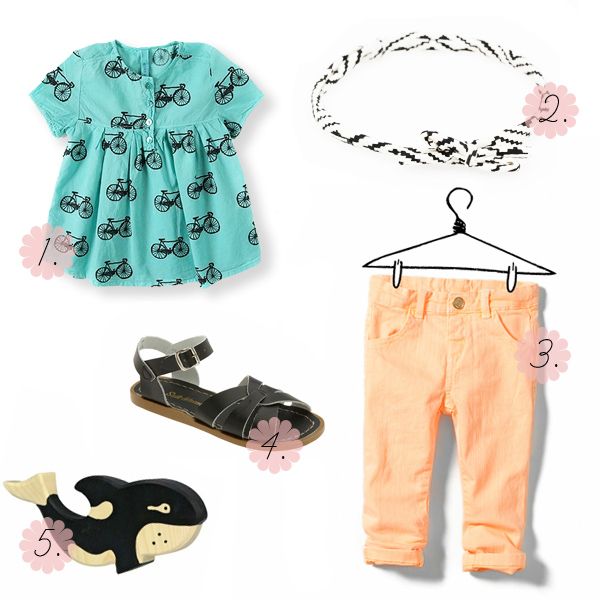 1.
BoboChoses Bike Blouse
2.
Theif and Bandit Kids String Headband
3.
Zara Twill Trousers
4.
Black Saltwater Sandals
5.
Holztiger Orca Whale Wooden Figure
So I had originally decided to do a Circus theme for Lani's 2nd birthday, when I found
this dress
at John Lewis. Which I still absolutely love. But now I have discovered Boho Choses. And this gorgeous bike blouse. It is absolutely adorable. And now it's got my mind ticking, thinking how fun it would be to do a cute bike themed birthday party. I'm not sure if I've mentioned on the blog, but my husband owns a
bicycle repair shop
, and is a bike mechanic. This theme would be fun, because I know he would get into it too. Oh, the decisions!
Also, if you haven't seen the clothes on the
Bobo Choses shop
yet, you've got to take a look. I think I've found my new favorite brand. They truly have the cutest stuff and if I was in the position to splurge, I'd buy so many different pieces for Lani. But that bike top... it's perfection.
I also adore saltwater sandals, but they are unfortunately not vegan. So as much as I LOVE them with this outfit, I would never buy them. Does anyone know of a vegan version of these?
Do you go overboard and plan themed birthdays for your kids? If so, any suggestions or ideas? I want to do as much handmade as I can.
[also, I recently noticed that the comments weren't working (thanks mom), due to the embedded function not working on my template. I've switched back to the pop out comments for the time being, until I can figure out what I need to do in my code to get embedded comments working. Argh!]