Saturday, May 5, 2012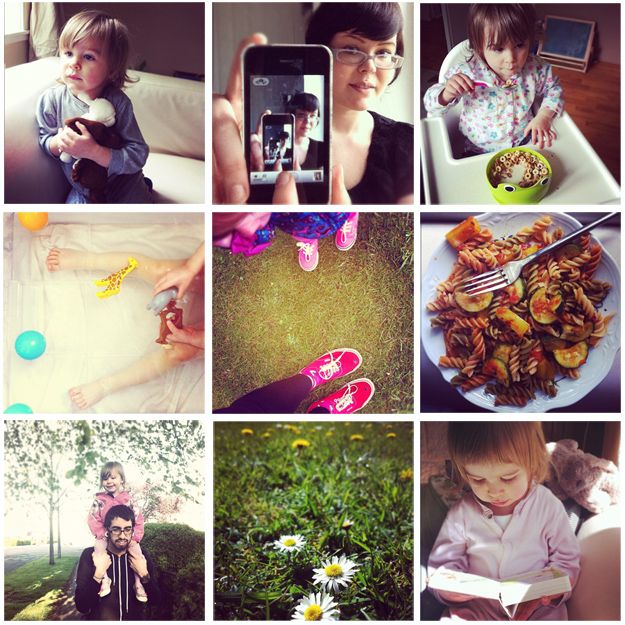 1. watching charlie & lola while cuddling her buddies 2. trippy photo of me 3. feeding herself cereal in soya milk. 4. taking a bath in her plastic tub because we only have a shower. 5. mama + baba vans 6. vegan vegetable pasta. 7. riding on daddy's shoulders on our way home from a long day out. 8. weed flowers in the back garden. 9. reading her new look about 'beasties' from Grammy.


Instagram has become somewhat of an obsession. I've had the app for a while and used it here and there, but now I find myself checking it multiple times a day and uploading loads of photos. I really enjoy the format, the ease of sharing and viewing other peoples images and just how simple it is.


This week has vastly improved with Lani finally feeling back to 100% after being sick for nearly 2 weeks. She went back to Monkey Music ( a toddler music class she attends every friday) this week, and boy did she have a good time. Not to brag, but she's always excelled at the class and this week she really made me proud. She did all the motions at the correct times, danced her little heart out and played the little instruments just as she was supposed to, stopping at the correct time and really showing enthusiasm for it.


I can't wait until she's old enough to start ballet around 2 and a half (we've even noticed there's a ballet school in a Church just 10 minutes walk from our flat!). I may not be the girliest of ladies, but I do love me some pink and black tutus, ballet shoes, classical music and twirling. I'll probably break my camera from excessive photographing when she starts that class.